My JasmineJoy Spritz Toner - 200ml
My JasmineJoy Spritz Toner - 200ml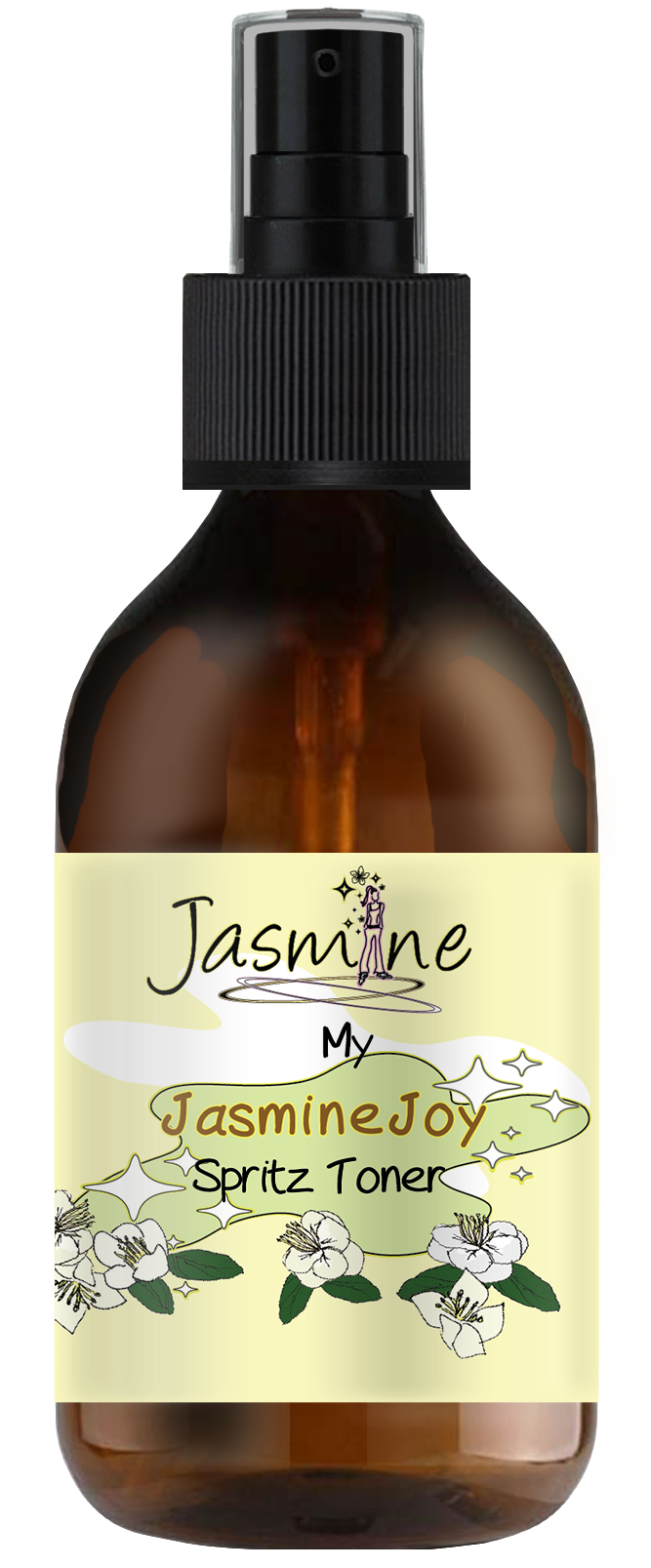 Be the first to review this product.
Natural facial hydration for all skin types
A light, fast-absorbing floral water to tighten pores, refresh and protect the skin
Made with the uplifting and toning benefits of Jasmine Essential Oil
Apply to clean, dry skin. Suitable for daily use. 
Paraben-free, vegan, cruelty-free, UK-made
A hydrating floral extract water to refresh the skin with a hydrating boost.

Antibacterial, uplifting and tonifying. This protective spritz is made with naturally mood-balancing and nurturing properties of Jasmine oil, derived from the jasmine flower.
This toning spritz is suitable for all skin types. Soothing and cooling this blend is additionally enriched with circulation boosting and cleansing grapefruit oil, moisture-locking Vitamin B5 and skin-softening allantoin for fully rounded skin-loving and rebalancing protection.
Our FlowerPower Promise
100 per cent vegan, cruelty-free and UK-made. Recyclable glass bottle.
How To Use
Can be used as a toner in the daily regime or as a arefreshing facial spritz during the day

FOR USE AS A TONER -
 apply to the face with a cotton pad after cleansing to tighten pores. Follow with moisturiser.

FOR USE AS A FACIAL SPRITZ -
apply to the face as and when required during the day. Pat onto face gently so as not to displace any moisturiser or make-up.
Use daily to tone the complexion, refine the appearance of pores and optimise hydration levels to support the vital function of the skin's moisture barrier.

Suitable for all skin types and for daily use.
INGREDIENTS
Aqua (water), Alchol Denat., Polysorbate 20 (Solubiliser), Phenoxyethanol (Preservative), D Panthenol (Provitamin B5) , Allantoin (Plant Extract), Citric Acid, Essential Oils: Citrus grandis, (Grapefruit) Extract, Jasminum officinale (Jasmine) Flower Extract.
CLEANSE AND REBALANCE WITH JASMINE ESSENTIAL OIL
Anti-oxidant, uplifting restorative and rebalancing. Jasmine essential oil has been used for centuries to heal and restore the skin.
Naturally mood-balancing it contains botanical protectors such as benzaldehyde and benzoic acid which are known for their antiviral and anti-biotic effects.
Its antioxidant and active ingredients stimulate cellular regeneration, which help to reduce the effects of stress on the skin. Naturally antiinflammatory it also helps to rebalance the skin while replenishing and naturally hydrating it to support the balance of moisture in skin cells without clogging pores.
---
MAINTAIN HEALTHY CELLS AND HYDRATION WITH VITAMIN B5
Also known as D-Panthenol, Vitamin B5 is a powerful humectant which draws moisture into skin to maintain lasting hydration enabling the skin to act as a reliable barrier preventing dryness and breakage.
Maintaining optimal moisture levels in the skin layers shields the structural deterioration which which can lead to irritations such as contact dermatitis while also providing effective itch-relief.
It has nerve-strengthening functions which help to support the integrity of skin health.
---
SUPPORT CIRCULATION AND BRIGHTEN SKIN WITH ENERGISING BITTER ORANGE ESSENTIAL OIL
Expressed from the fruit of the bitter orange tree this essential oil is a potent anti-inflammatory with additional powerful antibacterial benefits. It has been shown to have a beneficial effect on the body's metabolic function, has the ability to freshen odour and is uplifting with a positive effect on moods.
In a concentrated form along with Sodium Ascorbate it aids in fading blemish discolouration and increasing skin luminosity. It is also a potent antioxidant, skin conditioner and provides a lovely citrus scent.
---