My Lavender Love Night Serum - 30ml
My Lavender Love Night Serum - 30ml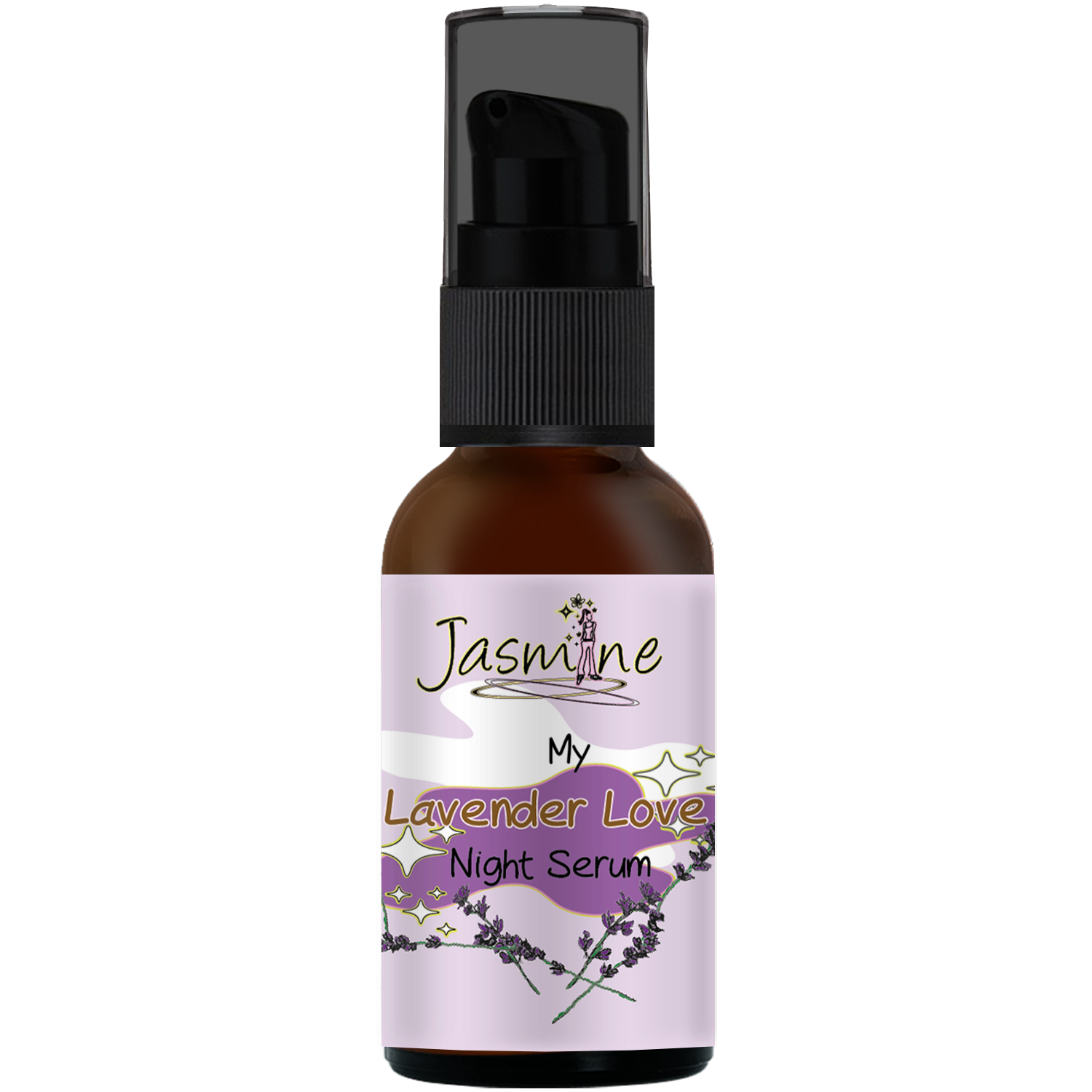 Be the first to review this product.
Powerful botanical hydration for all skin types
A non-greasy, deep cellular nutrition to rebalance the complexion
Made with the soothing antiinflammatory benefits of Lavender Essential Oil
Apply to nightly to cleansed skin. Suitable for daily use. 
Paraben-free, vegan, cruelty-free, UK-made
A deeply nurturing and hydrating blend to nourish the complexion without a sticky or heavy residue.
This calming and rebalancing soother is powered with the highly restorative power of antiinflammatory lavender essential oil to alleviate the destructive effects of stress and protect the integrity of the cell membrane reducing redness, discolouration and structural loss. Potently infused with restorative frankincense, oil-balancing ginseng, UV-filtering kakadu plum and free radical fighting maqui berry in a non-greasy and luxurious blend to restore natural radiance and optimise the protective performance, tone and resilience of the complexion.
The serum is suitable for all skin types and very nutritious for dehydrated skins. This non-greasy fast absorbing blend is further enriched with skin-soothing seaweed to support the hydrating and antiinflammatory benefit, while skin softening humectant allantoin helps to promote the turnover cells to accelerate the advancement of healthier young cells to the skin surface to strengthen and revitalise the complexion.
Our FlowerPower Promise
100 per cent vegan, cruelty-free and UK-made. Recyclable glass bottle.
How To Use
Apply every night after cleansing.
Place a small amount on fingertips and gently massage onto face, eye and neck areas, smoothing in until fully absorbed - avoiding excess pressure around the delicate eye area.
Suitable for all skin types and for daily night time use.
INGREDIENTS
Aqua (Water), Glycerine (and) Glyceryl Acrylate/ Acrylic Acid Copolymer (Vegetable Glycerine), Terminalia ferdinandiana (Kakadu Plum) Oil, Aristotelia chilensis (Maqui Berry) Oil, Panax ginseng (Ginseng) Root Extract, Daucus carota (Carrot) Seed Oil, Fucus vesiculosus (Bladderwrack) Oil, Phenoxyethanol (Preservative), Kotilan, Allantoin (Plant Extract), Essential Oils: Lavandula angustifolia (Lavender) Oil, Eucalyptus globulus (Eucalyptus) Oil, Thymus vulgaris (Red Thyme) Oil, Boswellia serrata (Frankincense) Oil.
LOVE YOUR SKIN WITH THE EXCEPTIONAL GOODNESS OF LAVENDER
Loved throughout the ages for its gently calming properties and sweet floral scent, Lavender thought to originate from the Mediterranean, the Middle East and India has a history of healing dating as far back as 2,500 years and many modern studies have proven its outstanding antibacterial, anti-inflammatory, antifungal, antispasmodic and antioxidant potency.
It's ability to reduce anxiety, calm inflammation and combat toxins make it an exceptional support for most skincare needs and a particularly effective botanical to use for soothing the complexion and protecting it against cell damage and irritation.
---
REGENERATE AND REFINE WITH SKIN-BOOSTING FRANKINCENSE
This wonder botanical has been used for centuries in Asian and African folk medicine. Frankincense essential oil is obtained from the resin of the Boswellia genus of trees and has been traditionally used to heal wounds, strengthen and tone skin and reduce the appearance of marks and scars.

Clinical studies have demonstrated the powerful immune-strengthening capabilities of Frankincense essential oil which is simultaneously deeply calming and aids in the regeneration of skin tissue.
This makes it an excellent aid for maintaining the integrity of the skin's structure and its vital function as a barrier aid while providing protective anti-inflammatory support.
---
RESTORE AND REBALANCE WITH POWERHOUSE HEALER KAKADU PLUM
A restorative healer of the most ancient traditional medicine, the Kakadu Plum is native to Australia and used historically by the Aboriginal people for its exceptional healing properties.
With the highest recorded presence of natural Vitamin C of any plant known to science, the Kakadu Plum contains up to 75 times more vitamin C than the average Citrus fruit and as such exhibits considerable regenerative effects due to Vitamin C's core role in stimulating the growth of collagen which in turn promotes skin suppleness and rejuvenates its appearance for a brighter youthful glow.
Kakadu Plum contains the antioxidant phenolic acid - gallic acid - which is natural nutrient that provides antioxidant protection against free radical damage triggered by daily environmental exposure to the sun, pollution and toxins.
---